Portsmouth West High School baseball program hosted the annual Rocky Nelson Wood Bat Classic 5/12/22. Pictured with her father Luke and giving senior baseball player Eli Sayre a high five, is pediatric cancer survivor Oaklynn Keller (also pictured below). Oaklynn was asked to throw out the first pitch.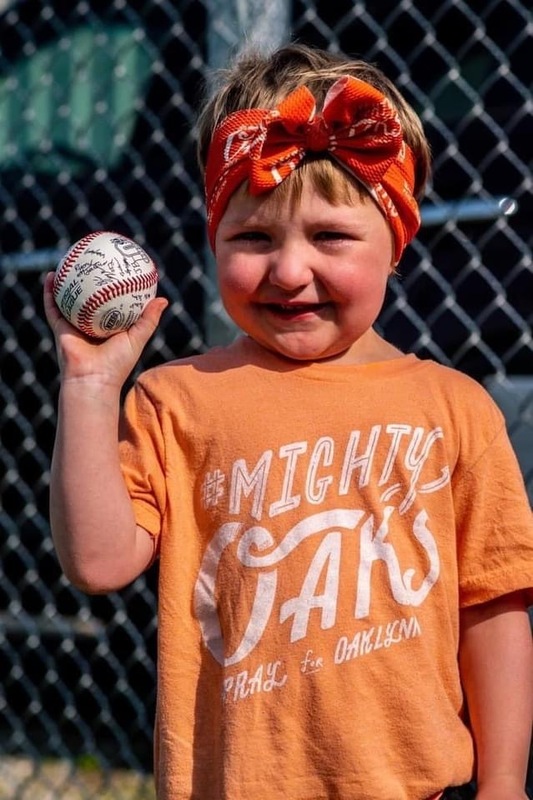 The Portsmouth West Senators, South Point Pointers, Chesapeake Panthers, and the Manchester Greyhounds were Lacing Up 4 Pediatric Cancer to support the Go4theGoal Foundation to help kids battling cancer. The teams purchased shoe laces, wrist bands, and sweatbands to show support for the Go4theGoal cause.
Lace Up 4 Pediatric Cancer began in the fall of 2011. Since then, professional, college and youth teams have participated in raising funds and awareness for the #1 disease killer of children. To date, over a half million athletes have supported our cause. $4 from every $5 pair of laces and 100% of all donations directly benefit kids and families in the state where the funds are raised.
Go4theGoal works to improve the lives of children battling cancer by providing financial assistance, granting special wishes, developing unique hospital programs, and funding innovative research. Learn more about Go4theGoal and how you can help to make a difference by visiting https://go4thegoal.org/.