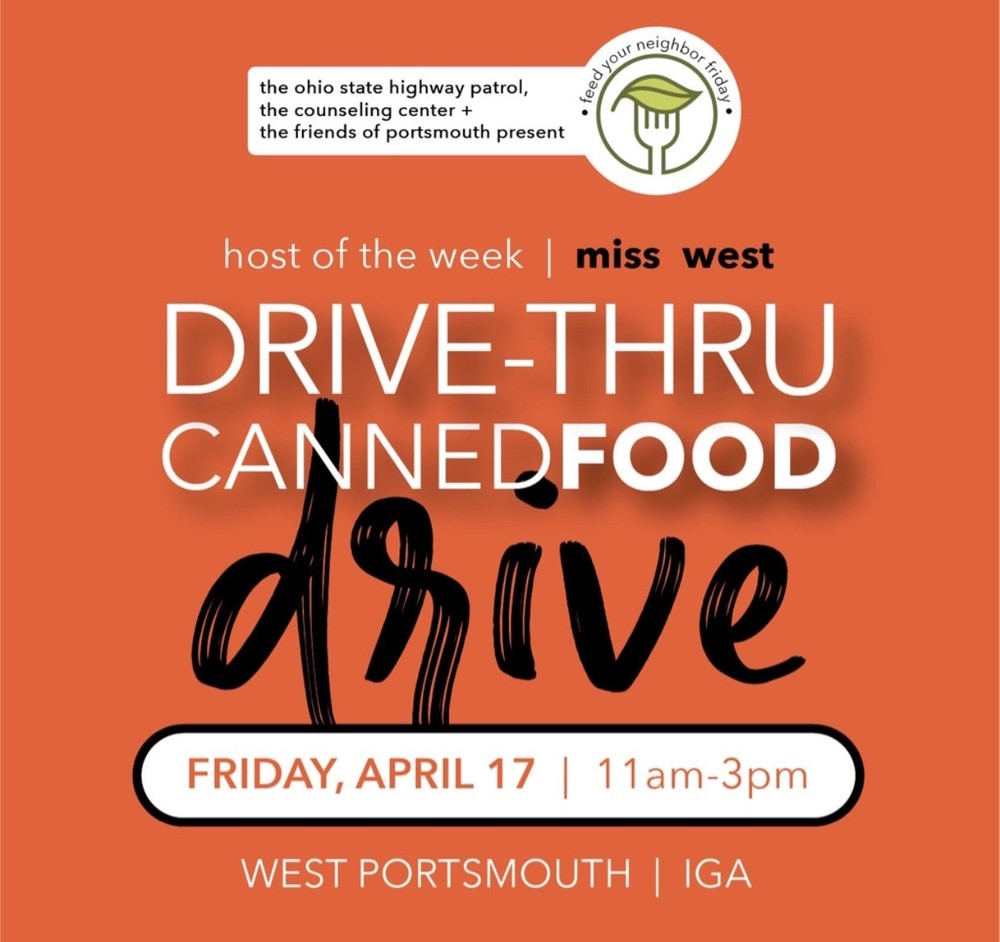 Miss West To Host Food Drive Friday, April 17
Kristie Copley
Wednesday, April 15, 2020
Portsmouth West's 2020 River Days contestant, junior Sydney Carter, will host a Drive-Thru canned food drive at West Portsmouth IGA Friday, April 17, from 11am-3pm. Carter, working with The Ohio State Patrol, The Counseling Center, and Friends of Portsmouth is this week's host for the initiative titled, Feed Your Neighbor Friday.
Though the recent COVID 19 pandemic has halted much of our nation's activities, Carter has found a way to continue to be safe while helping her peers and community in this unprecedented time. She gave a brief account of her past, current, and future plans to assist her community:
Of course with the pandemic going on, I am certainly limited to what I can do, but I have been making an effort!
First, right around when school closed, I went to the Elementary school and had them record me reading a story to share on Facebook. The younger kids have been loving this!
Second, of course I was missing my 14 new friends (the queens and other contestants), so I made them a treat. It is certainly hard to remain positive throughout something so new and so different, but chocolate cures most problems. My Mom and I made each contestant and each queen a bag of goodies and spent the day leaving them in the girls mailboxes! I loved this because it gave me a chance to get out of the house and spread smiles.
Now, (and this is certainly my favorite) I am the third contestant to host the Feed your Neighbor Friday. The River Days girls are partnering with The State Highway Patrol, The counseling center, and The Friends of Portsmouth to make this happen. Each week, a different contestant picks a spot in their community and sits with some State Troopers to collect non perishable food items for an establishment in their community. Personally, mine will be April 17th at the WestSide IGA from 11am-3pm. This is a great way to keep everyone from being hungry in this time of need! And on top of that, we have had two generous donations of $10,000 from people who recognize what good this is doing for the community.
Throughout each of these things, I have been prepping for the second I am out of quarantine. My Community service event, working on my float, and becoming as knowledgeable as I can about my platform to spread it in the best way possible. My platform is "Tooth Be Told, All Smiles Matter," I chose this platform to place a new priority on oral hygiene. A poor dental status can lead to people being insecure, depressed, and certainly unhealthy. I also want to become a dental hygienist when I am out of high school, so this is my perfect kick start!
Miss West continues to make the Senator community proud. Keep up the great work, Sydney!
#WeAreWest