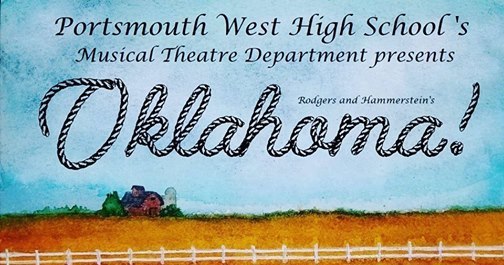 ​ PWHS Vocal Music Department and Thespian Troupe #5739 to present OKLAHOMA
Kristie Copley
Monday, April 29, 2019
PWHS Vocal Music Department and Thespian Troupe #5739 will present the musical, OKLAHOMA on Mother's Day Weekend, May 10, 11 and 12, 2019 at the Vern Riffe Center for the Arts at Shawnee State University. The musical is set in the Oklahoma territory in the early 1900s telling the story of two pairs of lovers: Curly is a cowboy who has trouble admitting his feelings to Laurey, who also is stubborn in admitting her feelings for him. Jud, the antagonist of the show, tries to come between them. Ado Annie is torn between Will, a cowboy who has strong feelings for her, and Ali Hakim, a peddler who is a habitual flirt.
PWHS cast members are as follows: Aunt Eller: Alicia Smith; Laurey: Addison Guilliams; Curly: Levi Kouns; Jud: Cole Tackett; Ado Annie: Zoe-Hanna Rawlins/Anna Lovins; Ali Hakim: Hunter Maynard; Aunt Eller: Will Parker: Evan Green; Gertie Cummings: Jenna Mullens; Ike: Xavier Camden; Fred: Ryan Thompson; Cord Elam: Timmy Thompson; Slim: Isaiah Norman Student Director: Nick Gray; Production Coordinator: Ivy Ferguson
To purchase tickets, click here.
'Hope to see you at the Vern!