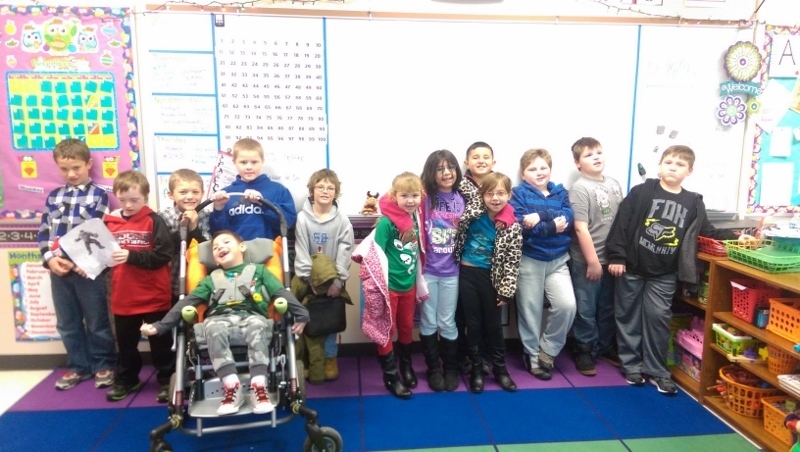 SCOESC Classrooms Accommodate Special Needs Students
Danette Colley
Monday, March 11, 2019
The South Central Ohio Educational Service Center (SCOESC) located in New Boston, provides support and services to educators, students, and parents in Scioto and other neighboring counties. Two services provided by the ESC include a preschool intervention program and programs for students diagnosed with multiple disability , MD classrooms. West currently has two MD classes in both the middle and elementary school, one MD class at the high school, and a preschool class at the elementary. These classes are just five of the twenty-three different MD cooperative classrooms supported by the ESC in Scioto County.
Working together teachers and students in the class strive to meet Extended-Ohio Academic Content Standards. The standards provide that "students with significant cognitive disabilities are provided with multiple ways to learn and demonstrate knowledge" and "are designed to maintain the rigor and high expectations of Ohio's Learning Standards". (Ohio Department of Education)
Social skills for life outside the classroom are also a focus. Community-based instruction helps build social, independent living, and employment skills for students. Working together both in the classroom and through participation in school activities and events, students gain important inter-personal skills.
The preschool intervention program serves 3-5 year olds with special needs. Classroom environment considers that a child with special needs is always a child first and provides the same interactive learning principles, activities and opportunities found in non-special needs classrooms. Social skills are also an important aspect of daily class time. Learning respect for oneself and others in our uniqueness, and a foundation of good habits, skills and attitude help develop confidence and self-esteem.
For more information about these and many other services offered by SCOESC visit their website at: http://www.scoesc.k12.oh.us.
ESC MD teachers at PWES are Stacey Riber and assistant Kaye Shirey, K-2; Ashley Gilley and assistant Frelina Adams, 3-4. The preschool intervention teacher is Dene Degonzague and assistant Cameron Duncan.
Each one are advocates for special needs children, working both in and out of the classrooms to improve and advance special needs children everywhere. Asked what they liked about their work responses were; 'Love it', 'Love the Kids', 'So rewarding everyday', 'It was my calling', 'The small accomplishments that are so big', 'The laughter'!