EDIT MAIN
School year 2019-2020 was a successful season for Portsmouth West's Mock Trial Team, as they brought home the first place trophy in both District and Regional level competition and were the only local team to advance to State Competition in Columbus. The night before leaving for State, the world shut down due to Covid-19, grinding the season so an unexpected halt. Many tears were shed as the State Competition was cancelled. Our Mock Trial Team strove to remain positive, however, declaring themselves "undefeated" for the 2019-2020 season.
This year, the plan is in place to hold competitions "virtually", and our team is ready for the challenge!
The advisor of Portsmouth West High School's Mock Trial team is Ms. Johnson. Competition season will be starting in January 2021, but the practices will begin September October 2020. Any students interested in participating in Mock Trial please see Ms. Johnson as soon as possible. To know more about Mock Trial click here.
2019-2020 Season Team Pictured Below
Mock Trial competes at state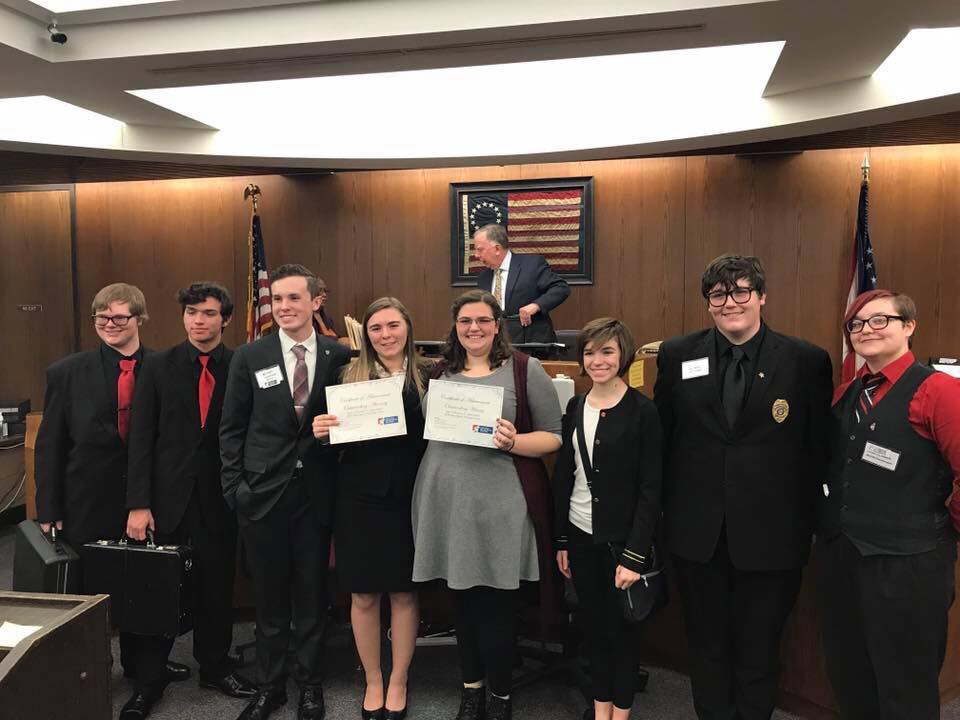 Portsmouth West High School Mock Trial Team competed Thursday, March 8, at the state competition held at the Franklin County Courthouse. The team performed well but fell short in its efforts to make it to the national competition. The prosecution side won its match against Logan. The defense tied West Jefferson and, then, lost by one point. West placed in the top 18 teams in the state this year and had five trial wins overall and 10 outstanding awards. Sophomore Whitney Campbell received Best Attorney award at state, and senior Jordan Willis won Best Witness.
To view more on Ohio High School Mock Trial, click here. Contact Ms. Moorhead, PWHS advisor, if you'd like to participate next year.