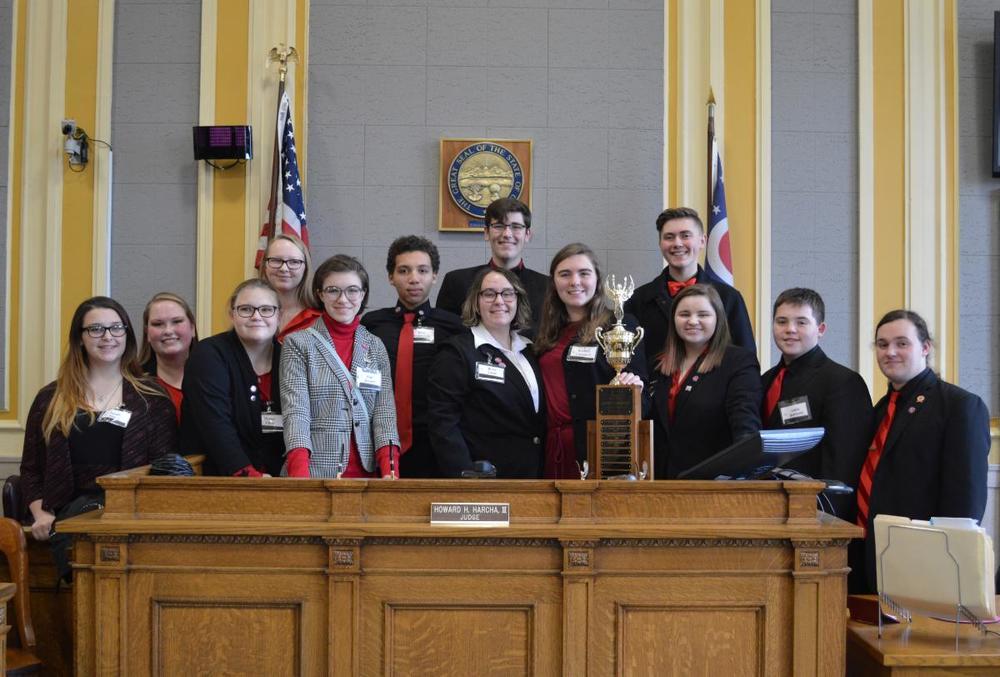 PWHS Mock Trial Team - Champions
Danette Colley
Sunday, January 26, 2020
PWHS Mock Trial Team are the 2020 Scioto County Mock Trial District Champions after beating out runner-up team Portsmouth High and St. Joseph, Ironton, on January 17th. New team coach, Sarah Johnson said, "The students have worked so hard for this and they are seeing their hard work pay off. We do a lot of practices at school and at the courthouse itself. Lots of hours go into this."
This is the 37th year for the Annual Ohio Mock Trial Competition held by the Ohio Center for Law-Related Education. The South Central Ohio Educational Service Center Gifted Coordinator, Sharee Price, and Judge Howard H. Harcha, III coordinate and hold to competition for the Scioto County District.
The PW team will advance to the regional competition on February 7th, joined by runner-up PHS and St. Joseph. Regional winners will then compete at the state competition to be held March 12-14 in Columbus. State winner will then represent Ohio at the National High School Trial Championships in Evansville, Indiana, May 7-10.
The Scioto County District Competition includes 11 teams from eight schools including: St. Joseph, Notre Dame, Portsmouth, River Valley Bidwell, South Webster, Valley, Wheelersburg, and of course, our own Senator Mock Trial District Champs.
The champion Portsmouth West High School team includes Legal Advisor Jay Willis, Whitney Campbell, Tarah Willis, Emily Scaff, Evan Green, Anna Lovins, Gabe Kouns, Macie Jones, John Jones, Cianna Newman, Alexa Leist, Aiden Robinson, and Coach Sarah Johnson.
Students receiving awards at the competition include: Outstanding Attorneys, Whitney Campbell and Evan Green; Outstanding Witness, Anna Lovins.
The Scioto County District Competition is sponsored by the American Legion James Dickey Post 23, Velma Feagans, the Honorable Howard H. Harcha III, Portsmouth Bar Association, Portsmouth Rotary Club, the Scioto Foundation, and Southern Ohio Medical Center.
Congratulations PWHS Mock Trial Team! Good Luck at Regionals!!