Focus3 Provides Positive Behaviors & Supports for District
Danette Colley
Sunday, January 26, 2020
PWHS has adopted Focus3 to model the school's PBIS (Positive Behavior Interventions & Supports) program around. Focus3 philosophies helps organizations develop "better leadership, better culture, and better behavior". Using the equation E + R = O (Event + Response = Outcome), Focus 3 gives organizations and individuals a system for positive behavior and making good decisions. Understanding that Outcome is feedback to one's Response can reveal changes a person can make to improve Response.
The WN District Leadership Team and some key community members met with Focus3 and developed a Culture Playbook for the district. "Our culture is the heart of our school system. It makes Washington-Nile Local Schools a special place to learn and live, and it give us a unique advantage. Building and sustaining the Washington-Nile culture requires intentional effort from everyone in the district."
"Culture is what we believe, how we behave, and the experience our behavior produces for others. It is the foundation on which our education community is built. Written statements help clarify the culture, but documents don't build culture...our actions do."
. "The BBO is the blueprint for out culture. It makes clear the specific behaviors & results we want from each of our beliefs. The behaviors outlined in the BBO are essential to how we engage students in the classroom, and how we operate our schools. Our goal is to create an educational environment where everyone consistently engages in behaviors that produce exceptional outcomes."
Washington-Nile will continue to work with Focus3 in developing behavior skills found in today's elite organizations.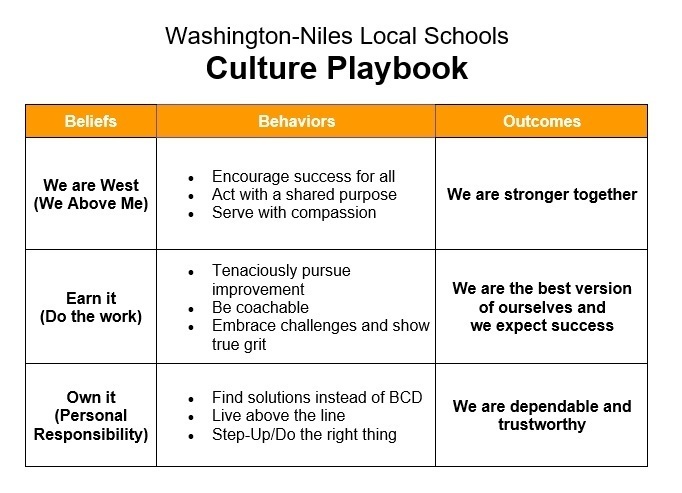 The High School has developed a point system to reward students that exhibit discipline and the core beliefs of teamwork, work ethic, and personal responsibility. Students earn points for GPA, attendance, good behavior, attendance, and extracurricular participation. Following each nine weeks, the top point earners are invited to attend a field trip. The trips have included the USAF Museum, COSI, Columbus Zoo, and Newport Aquarium.
Focus3 - Leadership, Culture, & Behavior Training